We've been having off-and-on rainy weather here in the land of ten-thousand lakes, so here are a couple more indoor shots for your enjoyment (:
Flannel: J. Crew - Belt: New York & Co. - Leggings: New York & Co.
'Roadster' booties: Nine West [Vintage America Collection] - Glasses: Ray-Ban (LensCrafters)
About this flannel. It's actually supposed to be a pajama top, but I prefer to fashion it as a shirtdress instead. It's so hard to find flannels that are long enough to wear with leggings (yes, ladies, some shirts are too short to wear with leggings...*ahem* no one wants to see that!), so I took advantage of the fact that this one was ;)
I have a name for just about everything in my closet. These boots are affectionately termed my 'Roadster booties' and I believe I got them for Christmas...or my birthday. They turned out to be a great investment piece, because I wear them constantly. I prefer to pair them with legging or jeggings (my newfound obsession!) and they're nice to throw on when you want a "comfy" shoe that doesn't scream "comfy" (Crocs, anyone?) and they're a little rough around the edges. I'll shut up about them now ;)


Glasses: Ray-Ban (LensCrafters)
This is the first year in many that I have actually worn glasses. I've been four-eyes since...3rd grade I think? But every pair of glasses I owned I never liked. So I swore to myself that I wouldn't buy another pair of glasses until I found ones that I absolutely would wear.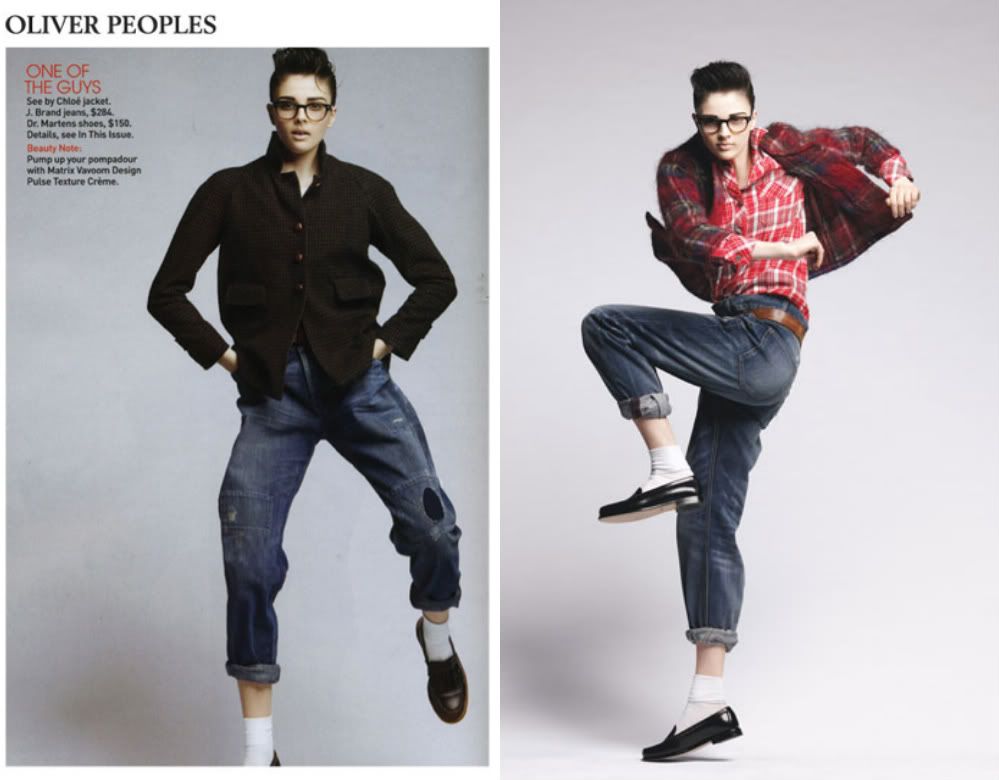 Teen Vogue, August 2009
I've always loved plastic-framed glasses. But I'm one of those people who likes the big, dorky glasses. Reminiscent of those from the 60's to the 80's. So while everyone else points at their parent's old pictures screeching, "Oh my gosh, I can't believe you wore those!" I'm the one saying, "Oh my gosh, you were so cool!"
Most of the frames I'd seen over the past couple of years were either too small for my taste or too square. So when I saw this photo shoot from the August 2009 issue of Teen Vogue, my heart was set on finding a nice, big, round brown frame pair of specs. And I did just that.
Shirt: Anthropologie - Jeans: American Eagle - Shoes: Report (DSW) - Headband: J. Crew - Purse: Express
So I know this last picture is a little random...but I thought it was interesting, so I wanted to fit it in somewhere.
That purse hanging there on the wall is probably the first real purse I've owned (besides for the silly ones I had when I was 9 from Limited Too) because I can never find enough stuff to fit in a purse (wallet, lipgloss, phone...what more does one need?!), but I just had to have this purse when I saw it. I love the squilted-studded pattern, and it kind of looks like a little mushroom. It was love at first sight. So I carry it around from time to time...to haul around my wallet, lipgloss, and phone (:
Hope you all are having a magically wonderful Sunday!